Don't buy a lot, but buy a few really good things, and then occasionally add one great piece: one great overcoat, or an amazing pair of shoes, or a game-changing pair of pants. Buy good things and keep them and over time you have a big wardrobe full of beautiful stuff. - Patrick Grant
In the vein of our last blog post on buying quality basics comes this wonderful bit of advice from Patrick Grant, the Creative Direct of Savile Row's Norton and Sons. In an interview with Esquire, Grant offered some great wisdom on dressing well, being comfortable in your own clothes even when they aren't fancy, and living like a gentleman.
Why you should spend more on your basics
Buy less, and buy better. - Michael Bastian
Regardless of your budget, in the long run it will benefit you far more to spend your money on the basics in your wardrobe. These pieces will be the foundation of almost everything that you wear, and you'll be wearing them often. You get a much better return on investment on those $200 jeans that you wear so much they become a second skin versus the $500 sport coat sitting in your closet waiting to be worn because you don't have the occasion for it.
Even if it means having fewer clothes, focusing on the quality, in both fit and material, is key. Quality typically comes at a more significant cost, but cost is not always a representation of quality. There are plenty of brands our there that carry a premium price tag based on their heritage and their logo. Many companies have earned that right, but not all of the current offering reflect the heritage and original quality of the brand developed within.
The goal is for your basics to fit well and to last you a long time. You should not be buying these based on price and for sure not for the logo on them. Ideally, your basics won't even have a visible logo. You should be looking for and buying what styles and cuts work for your body and your lifestyle, and your budget.
At The Pursuits we strive for this goal with our own closets. Our ten piece work week challenge highlighted that. We realize that everyone has their own financial responsibilities and goals, and that clothes can sometimes be towards the bottom of the list. We aren't telling you to move them higher or to focus on them more. But, when it comes time for you to get new clothes, we hope you think about how you want to present yourself and how having strong, well-fitting basics will help you do that, even if it means having fewer clothes.
Unleashed: Menswear Dog

Ever wonder what goes on behind-the-scenes at MWD? Our friends at Blue Chalk Media help shine some light with Unleashed, a new digital video series that chronicles stories about people and their special relationship with pets.


Special Thanks to Catherine Yrisarri, Rob Finch, and Greg Moyer for being the nicest people on planet earth.
Need some sartorial inspiration? Check out Menswear Dog. This Shiba Inu has style for (dog) days.
So it's all on the table tonight. Here is Day 7:
Giro D'Italia t-shirt, Jeans, Running shoes—I didn't really count the vest as it's technically outerwear.
A work week is generally defined as Monday to Friday 9-5. A lot of people fall into this work week(like Bruce, my brother, and our fathers). My work week is far from the traditional understanding of a work week. I either work six or seven days a week in two different bike shops. Five days on the sales floor and one or two days wrenching. Needless to say I don't wear a suit or tie to work. It's generally pretty functional pieces. A couple pair of pants, t-shirts, some casual button ups on weekends. I get dirty sometimes so I don't want to mess up any nice pieces.
Now all the goods: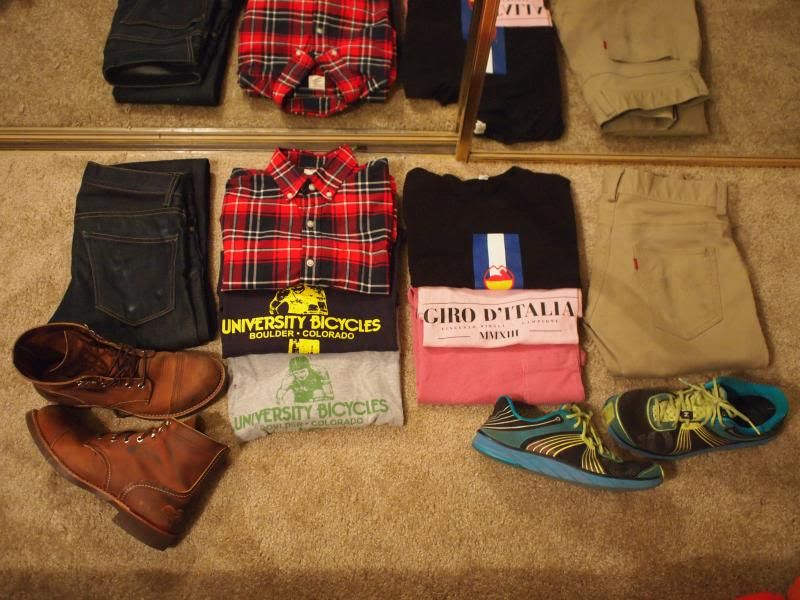 -Red Wing Iron Ranger*—They are still new and breaking in. My goal behind them was to get a pair of everyday, durable, and comfortable boot to wear, no matter the weather.
-Pearl Izumi—Comfortable, somewhat supportive, and light. In the summer time I do a lot of running and walking around at work, and the running shoes make sense. Especially good for riding a bicycle, but not great in winter.
-Imogene + Willie Barton Slims*—They were a gift, and a gift that I am very appreciative for. A pair of selvedge denim that took 8 months to truly break in and still have plenty of time left. Almost a year later and they fit like no other pair of pants I have ever owned. I recommend investing in a pair to anyone who is considering them. They are well worth the money.
-Levi's Khaki Chinos—Khaki, slim fit, nice medium weight. They are great for spring, fall, and winter based on the weight. The fit and material are comfortable. They were free and make a great work pant.
-J.Crew Plaid Flannel—It's a simple and comfortable button up. It's not super dressy, is nice and warm, and looks good.
-Farm Tactics Pocket Tee*—Simple and comfortable. There isn't too much to say about it. Simplicity can go a long way.
-Long Sleeve Shop T-shirts—Two pretty self explanatory pieces. I work in a bike shop so I wear a shop shirt a lot.
-Short Sleeve T-shirt—See above. Most my t-shirts are cycling related because I wear them most days a week.
*I picked these lovely items up from my local American Made menswear store Berkeley Supply
Rocky Mounts T-shirt, Chinos, Iron Rangers
And to top off a long day at work, a nice glass of Whistle Pig Rye Whiskey.
If you haven't noticed I wear a lot of t-shirts to work. It's easy and a lot of times we get free shirts from the brands we carry. Needless to say most of the t-shirts I own are cycling related.